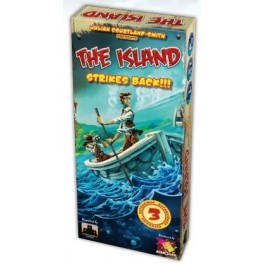  
The Island Strikes Back!!!
Nº de jugadores: 2- 6
Desde: 8 años
Duración: 45 minutos
Idioma: Castellano
¡Estas tres expansiones de The Island te harán nadar más rápido aún!
Descubre veloces criaturas marinas capaces de surcar los mares para atacar a nadadores y barcos por igual. ¿Conseguirán los amigables delfines salvarte?
Conoce una nueva y hambrienta criatura: el Calamar Gigante, que puede atrapar a los incautos aventureros queestén en barcos o en tierra con sus largos tentáculos.
Y además, comparte las emocionantes aventuras de The Island jugando con hasta 6 jugadores.
Necesita el juego base: The Island
También podría interesarle
16 otros productos en la misma categoría: